The end (of 2014) is near.
Pretty mind-blowing, isn't it? In a world where 24-hours is not enough to fulfill our needs and do our work, 365.25 days seem really fast to pass. And in the world where every little thing becomes global, we all share the same laughter, grief, hope, and loss.
Have you guys seen Google and YouTube's recap on 2014?
I'm going to review my version of 2014 recap:
Happy – Pharrell Williams
As of 2014, March 20th will forever be remembered as International Day of Happiness, and I guess that was sort of the peak of 'Happy', a song by Pharrell Williams for the movie 'Despicable Me 2'. The song was constantly played on the radio in the early year, and it was a really nice tune to dance to. What I never saw coming was that very moose-like hat Pharrell wore in the music video, on stage, the Academy Awards, Oprah, everywhere. The hat was a total hype. Funny world, isn't it?
Here's a parody of Happy from Fluxcup that got me reaaaaally laugh:
Shout-out to other overrated songs of the year: Rude – MAGIC!, any Ariana Grande songs, All of You – John Legend, #Selfie – The Chainsmokers, All About That Bass – Meghan Trainor, Am I Wrong – Nico & Vinz, Anaconda – Nicki Minaj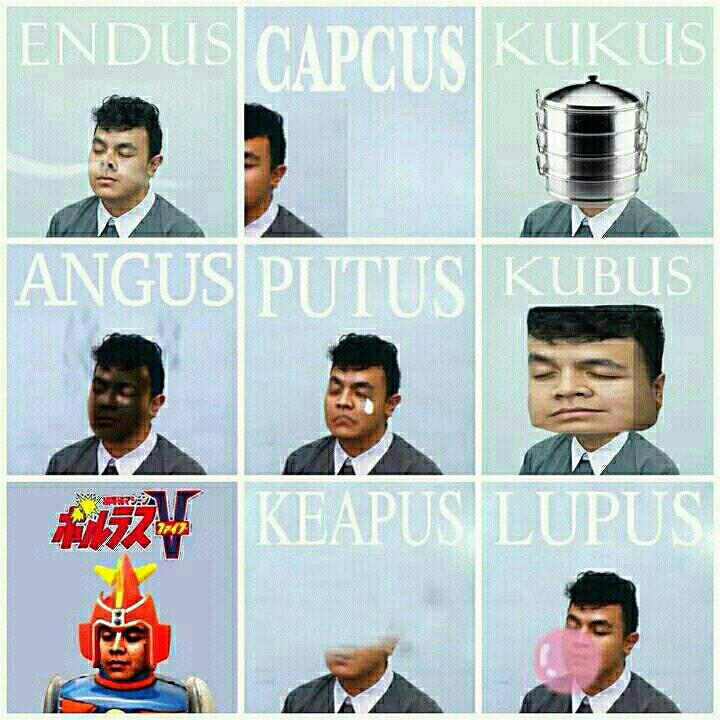 Tulus, Fulus, Sirkus, Tandus, Usus, Rakus, Kurus, Gayus, Keapus, Mulus, Terus, Danus, Mampus, oh name all that ends with –us. I am quite saddened that a very talented singer with a beautiful name had to go through a phase where his name was altered to something else as a joke. God bless Tulus and his musical career :'
The topic on who will be Indonesia's next president was pretty hot since 2013. At that time, most survey said that Joko Widodo had high electability, meaning people would put more trust and faith on him than any other candidates. I never thought he'd be a real candidate, because I thought he wouldn't leave his seat as Jakarta's Governor to be President. But then he did, and all I could think of was "I had to pick him." People on social media – facebook, twitter, ask.fm, Path – were basically rooting for their own choice, debating on why one candidate was better than the other, funny memes about the candidate, etc. I was glad most people picked Joko Widodo, and he is now my president
J
SELFIE EVERYWHERE. EVERYWHERE SELFIE. Selfie has been going on since the time Van Gogh painted himself but now phones have this front camera for selfies and people are crazy to post them on Instagram. Name it: from Kendall Jenner to Saipul Jamil, to the song #Selfie by The Chainsmokers.
Ha!
Joan Rivers & Robin Williams
I cannot be more devastated when Joan Rivers and Robin Williams died. I used to love watching Joan Rivers, for she was a pretty badass and funny old woman. And I grew up watching Robin Williams, in his role in Dead Poets Society and Genie of Aladdin. Robin Williams' death really shook me though, learning he suffered from depression and still there to entertain people. The world was grieving for having the loss of two really great comedians.
One of the coolest thing mankind did this year was landing a spacecraft on top of a comet. A COMET, EVERYBODY. European Space Agency's Rosetta sent its Philae lander to land on a comet. It's a pretty big thing to do, considering now scientists have more and more things to research on the mysterious space.
1.
Not long after Overdose was out, the world was shaken by the news Kris of EXO was leaving.
2.
Just a few months after EXO Planet World Concert was about to finish, Luhan of EXO left.
3.
A few weeks after that, Jessica of Girls' Generation was kicked out of the group.
Enough said.
So at some point of 2014, people were pretty pissed about a bird. A flappy bird. No I mean it, a game called 'Flappy Bird' that got most people on earth frustrated for not getting the game right, having the bird got smacked by Mario-Bros-like pipe, and constantly lose. There was a point where people got really angry for this game and threatened the poor-yet-genius guy who made the game, making him really depressed and took the game out from any type of app store forever. Sad, really.
Celebrities were doing it. People were tagging other people to do it. News covered it. The challenge mechanism was to either get donate to the ALS cause or get splashed and dumped by a bucket full of cold water and ice then tag other people to do it too. The purpose of the ice bucket challenge was to show people the effects caused by ALS was the same as getting splashed by icy water, getting people numb or something. It was pretty funny when people took it really seriously and elevated it to the next level like using a helicopter and dump the water from thin air or something. Others thought it was a waste of good and clean water (while there are some parts of the world lacking good and clean water), while others like the people diagnosed with ALS were grateful people are contributing to the cause.
I never thought Guardians of The Galaxy was a box-office success, and I would never thought the really nice 80's music was going to be a trend. I personally loved Come And Get Your Love and that song that goes "ain't no mountain high enough, ain't no valley low enough, ain't no river wide enough"
I guess it's a pretty good year for Marvel movies, like Captain America 2: The Winter Soldier, The Amazing Spiderman, Guardians of The Galaxy, etc. Now people are dying for the sequels, anticipating for the Civil War, etc. For Disney, thank you for making Frozen and your song 'Let It Go' hypnotize the whole world into making Elsa hair braid, wearing blue dresses, singing in Idina Menzel or Demi Lovato version, and making Olaf snowman in the winter. Interstellar I think was the highlight of box-office movies in 2014, in Nolan's imagination of a whole new dimension where people can hop to different time and space, and with a powerful story where even the borderless space is no boundary for love.
Ada Apa Dengan Cinta? 10 Years Later
The peak of my childhood came up to me when LINE, a social messenger application, made the idea to reunite the cast of Ada Apa Dengan Cinta (a romantic drama movie of 2002) and made a short sequel on how Rangga and Cinta be reunited through LINE ten years after Rangga left Cinta to United States. The time I watched the short movie/long commercial, it was full of "AH" "OMG OMG OMG" "ADUH RANGGA BEGO" "ADUH CINTA BALES LINE DONG." It was a pretty nice touch to AADC, though I'm sad that it was merely a commercial, not a real movie. Well played, LINE.



Well, as for me, I had managed to go through two semesters as a newly communication student concentrating in advertising, I got a paid-internship at a start-up digital marketing company, I got to manage many social media accounts for other brands and people with more time than I manage mine myself, and the year I once again felt love when I thought I was numb for it.


It was a fun year, and I cannot wait to see what 2015 have in store for all of us.
See you next year!